- 130 LUMENS PER WATT – Outdoor wall lighting has a beam angle of around 120 degrees and provides super bright 5000K light, which is brighter than the other 80W Wall Pack, meaning it is more stable and energy-efficient.
- UL CERTIFIED – We always adhere to the principle of a higher standard and superior quality for all our products by testing each product for first-rank insurance and performance.
- COMMERCIAL GRADE – The LED Wall Pack fixture can be very shattered resistant, and is able to handle wet weather conditions. Therefore, it is a suitable outdoor led light fixture used widely for buildings and outdoor areas, such as alleyways, building exteriors, parking lots, commercial outdoor spaces, churches, etc.
- FIVE-YEAR WARRANTY – Hyperlite devotes itself to provide good quality outside led lights and the best competitive price for customers. You are always covered by our 5-year warranty when you purchase our products and welcome to contact us if you have difficulty installing or using our products.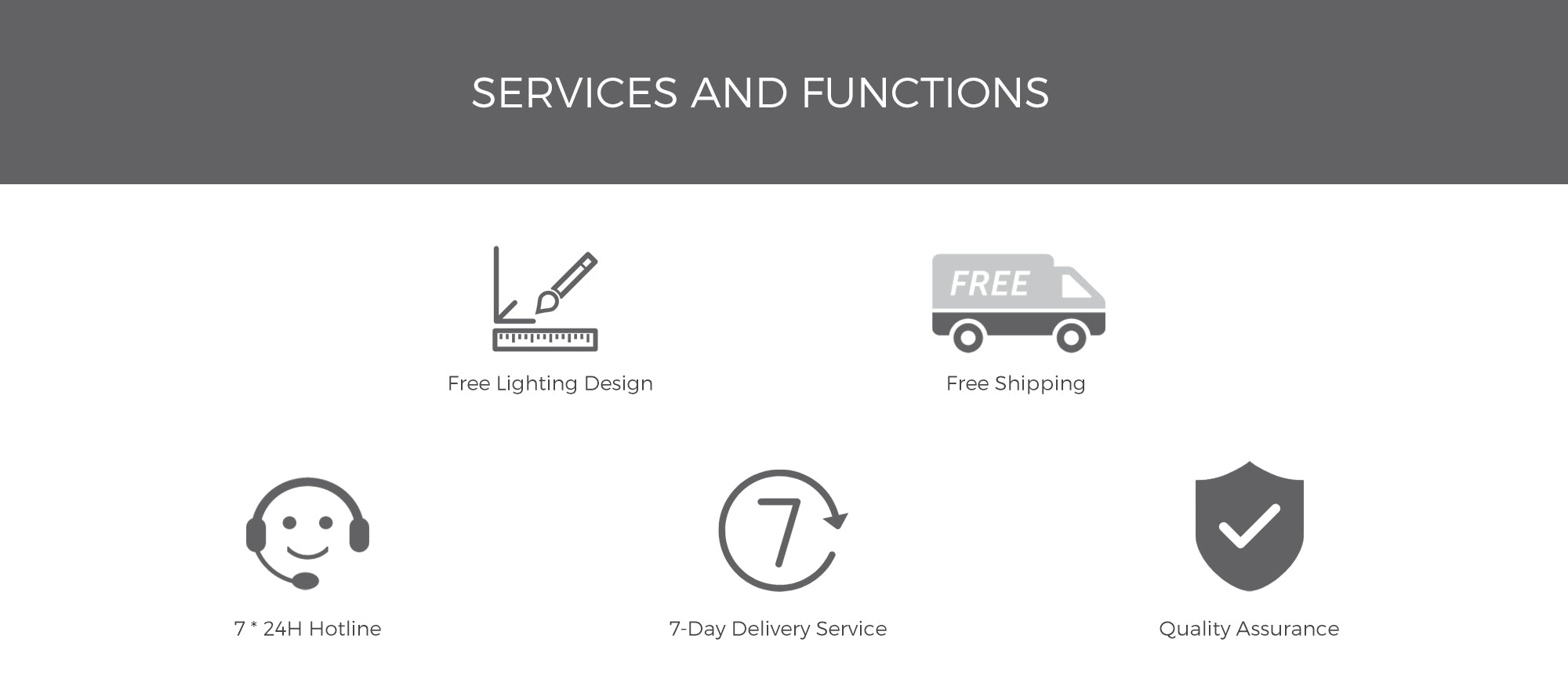 I have a 50 wide garage and would like to mount moon series in middle at 16 feet. What wattage do you recommend

We answered with the details on our forum, you can see the information here

How many amps does the 120w moon series wall pack use?

We answered with the details on our forum, you can see the information here: https://community.hi-hyperlite.com/showthread.php?tid=48

Which Moon Series wattage would you recommend for a Shop walk-in door 9' up for night access & security purposes? Thank you! NOTE: The 8 shop lights I got from you are awesome... Thanks again... JP

We would recommend you to use the 50w Moon Series Wall Pack Light for your application.

I have a 42' wide pole barn and would like to mount a light over the center of that end over a overhead door. The light will be mounted about 21 feet high. What wattage would you recommend to light up that side of the building?

We recommend 120w for 20ft or more (height)

Hi I have two wall packs mounted on the length of my garage the lights are flickering on and off it the photocell picking up the other light and shutting it off. How do I fix that

Plug the frosted cap onto the phototcell. The frosted cap can weaken the influence of ambient light on the photocell; If the lamp still flashes after the frosted cap is plugged in, part of the frosted cap can be covered with black MARK pen or black adhesive tape to reduce the influence of ambient light on the photocell and ensure the normal operation of the lamp.

Could I run (3) Wall Pack Light-Moon series 100W on the same circuit and add a timer to control the 3 lights?

You can run on the same circuit.
About the timer controller unfortunately is not an option but these lights have a photocell that is a sensitive device and will be affected by external
light.

Do these come able to put a motion on it if you don't want it on dust to dawn

They do not come with that option.

Does this light have a built in junction box? So when mounted I can just rub conduit through the tin into the box? If So, how wide is the mount/junction box so I know I it will mount flush in between the ribbed tin siding.

Yes, it comes with a junction plate blox for mounting. You can rub conduit through the tin into the box. The dimension of the junction box are 14.2" by 9.3".

Do I have to purchase a mount separately to mount this to my garage. It has vinyl siding

No, since the base of the fixture is the mounting plate as well. Please check for our Moon series manual for more information about the installation and power connection.

Is the hole in backplate large enough to pull a set of 12/2 wire through to link more than one light together?

If necessary you can enlarge it using drilling tools.

I have a barn with a overhang that is 30'x50' and was wanting an outdoor night light to put at the top of the peak Which is ~18' High. I don't want to light the entire world up but just enough light to illuminate the area decently. What wall pack wattage would you recommend? Thank you

Thank you for your message. Please check your email because we sent you all the information you need and our recommendations too.

I have a 45'X35' barn I would like to put these on 2 sides and have them light out into the yard a good 100' of so. Which wattage should I use? They will be mounted about 15' high.

We recommend you to use the 70w one.

Can we request with integrated photocell and emergency battery back up for 90 minutes? Also what is the working ambient temperature of this series?

Working ambient temperature is -40F to 122F, Moon Series come with integrated photocell but unfortunatelly the accessory back up battery you mention is not available for this series.

I have the 70W Moon series but is still too bright for my patio, the box have the Part# SA-WP-70W-57, can I install a dimmer ? or can i somehow dim the light manually on the driver ?

Sorry, this moon series is not dimmable. If you purchased your moon series less than a month ago you can apply for our 30 days satisfaction warranty or maybe you can contact a local electrician to get assistance about a product available on your local area that can help you to dim the moon series. Please send us an email with more details to service01@hi-Hyperlite.com.

I have a 20x40 metal Building. My door is 12' wide . 13' tall . Wanting a good light over the door shining on driveway . Driveway is 40' to street

We recommend you to use 1pc 70w Moon Series Wall Pack Light for over your door, installed at 14 to 15ft high.

Wanting to put these over the shop man doors to see when entering at night. One door faces a busy street 20' away and we want a mostly downward facing light so it does not blind motorist going by. Would this be appropriate ? (The building is pretty well lit from lights up high, but the doors are under awnings so in a shadow.)

Thank you for your preference. maybe the best option for you would be our Guarder series instead of the Moon series. Please check it here: https://hi-hyperlite.com/products/led-flood-light-guarder-series

What would you recommend for 8ft height on exterior of building? they will be on three corners of shed two across front one on back corner but I'd like it to be reasonably bright so I can see well

Perfect. We recommend you to use our Moon series 70w light for a 8ft height exterior building.

Can these be used with a motion sensor?

Moon Series Wall Pack Lights only come with phtocell they are not compatible with motion sensor.

Is this unit solar powered

Hello Richard. Thank you for your preference. We are sorry for the inconvenience. This is not a solar-powered unit, in fact, we don't have solar-powered lights in our stock for the moment. But we will take it into consideration for our future products.

Do you offer Quantity discounts?

Yes, please write an email to sales@hi-hyperlite.com and mention the specific product and quantity you would like to get.

at 10 ft how wide and away from the wall does a 50 watt moon series shine

Hello. Thank you for your preference. About 15ft away completely clear.

Does this unit come in white

Hello Jeff. Thank you for your preference. For the moment we only have it available in black color. Sorry for the inconvenience.

When mounting to a ribbed metal building do these require a junction box?

Hello Thomas. Thank you for your preference. We recommend you to use the Wall pack with the junction box because it is useful to complete a solid installation and it's two waterproof rubber rings bands that connect the unit to the junction box also protect it from weather conditions. And as you can see, the Photocell unit is part of the junction box. Please check the video related to our Wall pack - Moon series for more information.

HOW MANY FT. DOES A 20 FT. LIGHT SHINE OUT FROM THE WALL

Hello Steve. 120w Moon series (Wallpack) can illuminate aproximately 40ft out from the wall.

Do you have these lights or any others that come with motion detectors installed?

Sorry, sir. We do not have it until now. We will launch new products like this as soon as possible.