Hyperlite LED High Bay Light - White Hero Series
$89.99
Regular price
$104.99
All Free Shipping
☎

 

BRIGHT & BRIGHT – Hero series high quality and powerful high bay light gives off industry-leading illumination! It's commercial grade compatibility and with up to 135 lumens per watt, it easily becomes one of the highest performing lights in the industry.

On top of all this, this light 

has

 an option

 for 

reflector cover (extra purchase) to provide up to 20% up light!

☎

 

FAST & EASY INSTALLATION

 

- The effortless 3-minute installation process will save you the headaches and frustration that other light installations cause. This package comes with a US hook, 5f power cord, and safety rope to make installation much easier! It also features a US standard plug for easy and direct power sourcing. It will save you time and energy to work on other projects!
☎

 

STRONG & DURABLE

 

– This amazing UL certified high bay light features an IP65 grade waterproof and dustproof design. It's commercial grade, durable properties make it the toughest and most versatile light on the market. Never worry about this product being damaged from outdoor weather conditions! The pure aluminum cold forged housing provides excellent thermal transfer to extend component life and keep it from being damaged. It's operation temperature is -22 to 113 degrees Fahrenheit.
☎

 

BEAUTIFUL & UNIQUE DESIGN

 

– The lightweight, low profile and circular/UFO-like design makes this high bay light the most unique and beautiful product on the market. On top of all these lights' beautiful characteristics, it is also dimmable! This professional, stylish, and unique look offers its customers a supreme lighting experience.
☎ FIVE-YEAR WARRANTY

 

–

H

YPERLITE

 offers customers an unbelievable 5-year warranty! We believe that you will love this light and it will function 100% effectively, but if for some reason it doesn't,

 

we

 promise to return the products within 30 days free of charge. HYPERLITE will be responsible for all quality issues. Please feel free to contact us and get problems solved!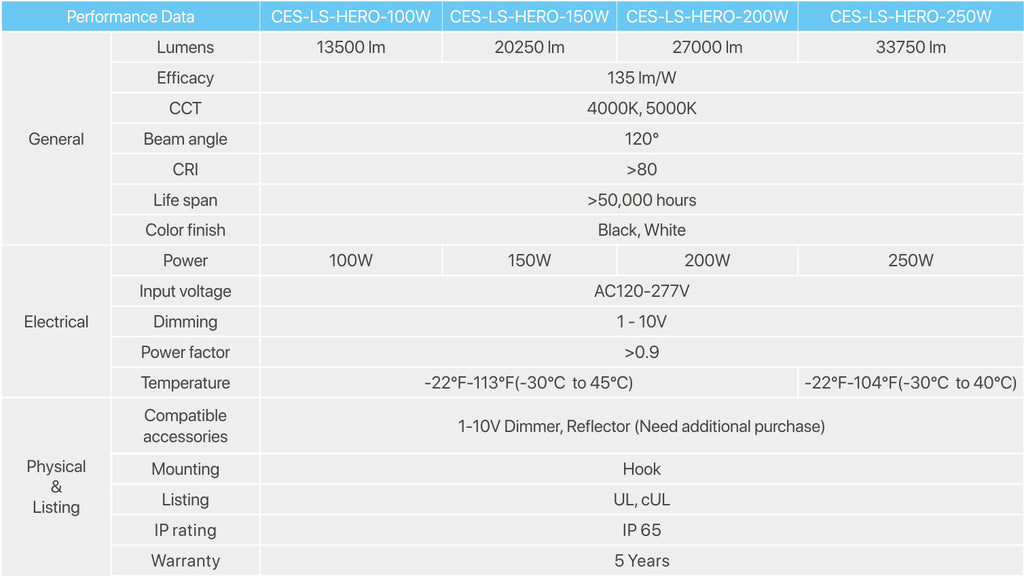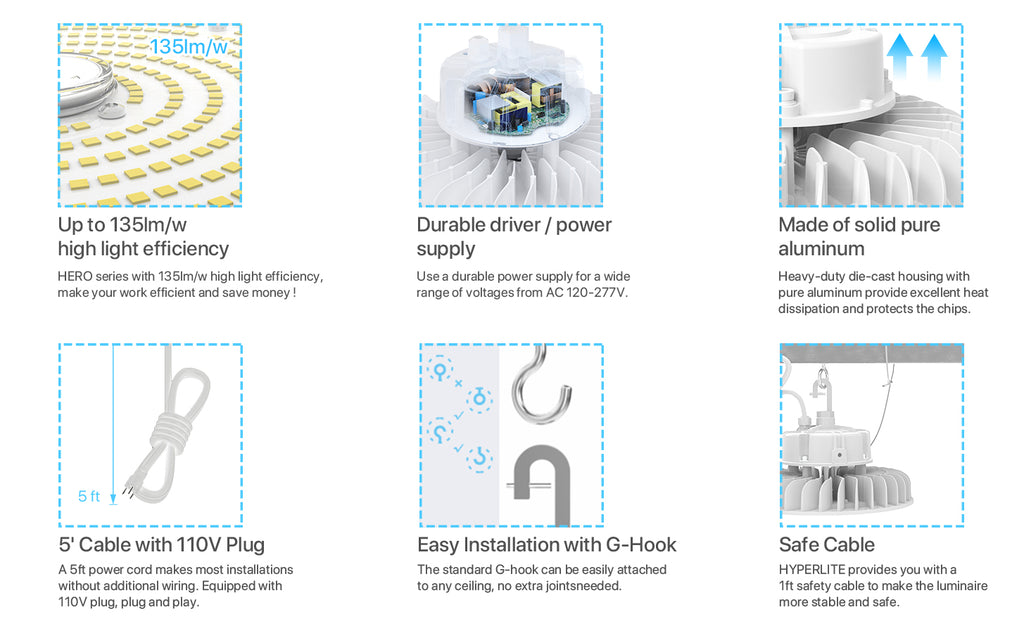 Share from Customers

What are the areas where you can use LED high bay light white?
You will see an LED high bay light white in facilities that have high ceilings and that can be more than twenty feet. Commonly this type of LED high bay light white is seen in warehouses, airplane hangars, gymnasiums, distribution centers, and manufacturing plants.
Good quality of LED high bay light has reflectors and optics so that they can provide a more uniform light beam over a large area. Due to these reflectors and optics, the lights can eliminate shadows and dark areas.
You will generally get 150watt high bay light, 200-watt high bay lights, and LED high bay light 100w. The 150watt high bay light is used in playgrounds and stadiums. You will see that the 200-watt high bay lights are used in warehouses and garages. And you can use the LED high bay light 100W in the 10'-14' ceiling buildings.
The LED lights also help increase the productivity of workers as they can see fine details and color contrasts better. The chances of causing mishaps, which generally take place in case of poor lighting, can be reduced.
The demand for LED high bay light white is increasing rapidly because of its low maintenance cost. Its durability and longevity is also another major factor for its increasing demand in the market.