How do I buy a perfect outdoor LED wall light?
Hyperlite offers really good options for outdoor lighting, some of which are the Outdoor Led Wall Light. We can find different models in this group of products that can properly light up our outdoor sections, and choosing the best option for your application is not a big deal; we just have to pay attention to some details.
Here at Hyperlite we will help you identify one of the Wall Pack Lights that best meets your needs.
First, we have to identify the area we want to light up and how high we are able to install a light, because knowing this information helps us better choose the possible wattage we have to use.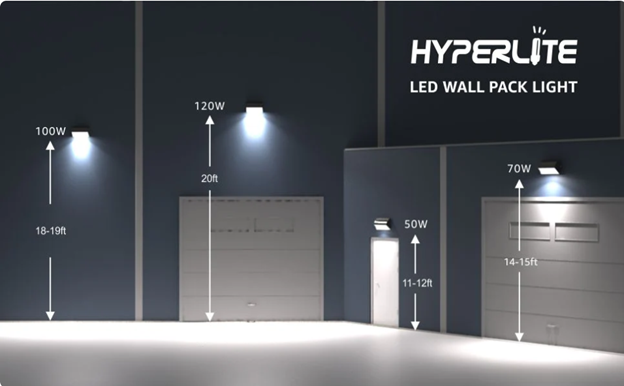 As you can see above, different heights create different lighting areas.
Second, most of our Wall Pack Lights come with a Dusk to Dawn Photocell, but if you do not need it, you can choose a model without this sensor, for example, the Wall Pack Light Wall E Series.
And last one, we know our customers need a very efficient, durable, and trustworthy product, but it also has to be elegant and match the style of our building, and we offer you some options with different styles.
Wall Pack Light with Photocell - Oval series
Wall Pack Light with Photocell - Space Series


Now that you know Hyperlite has a product for each application, choosing the best one for you is really easy. Remember that our customer service will always be happy to help with any questions you may have.