☎

 THE HYPERLITE ADVANTAGE: The contractor and electrician select. Hyperlite's LED wall pack lights with commercial grade.

☎

 

130 LUMENS PER WATT: Using powerful LEDs and sufficient LED quantity, The Wall E series LED wall pack light emits 130LM/W light efficiency. Save 85% energy and your electric bills.

☎

 

DESIGN EXCELLENCE: Robust die-cast housings are contructed with Bronze coated alloy aluminum for super durablity and weather-resistance, no paint falling off and anti-oxidation. The big-size and high brightness LED chip 3030, maximum the LED life over 100,000 hours for long term use. The shatter resistance polycarbonate lens protects the LEDs and makes Hyperlite's wall pack has the glare protection.

☎

 

EASY AND SAFE TO USE: The Hyperlite's wall pack fixture has a 0-90 degrees adjustable head and full cut off design for controllable illumination, which offers an easy, precise onsite adjustments to target the lighting direction where is needed, no light pollution or annoy your neighbours. IP 65 rating means it can resist all weather conditions and makes it great for buildings, loading bay, commercial entryways, and more outdoor areas. A free tool bag with wiring caps and mounting screws.

☎

 

FIVE YEARS WARRANTY: Hyperlite devotes itself to providing good quality LED wall pack lights and best competitive price for American customers. You are always covered by our 5-year warranty when you purchase our products, and welcome to contact us if you have difficulty in installing or using our products.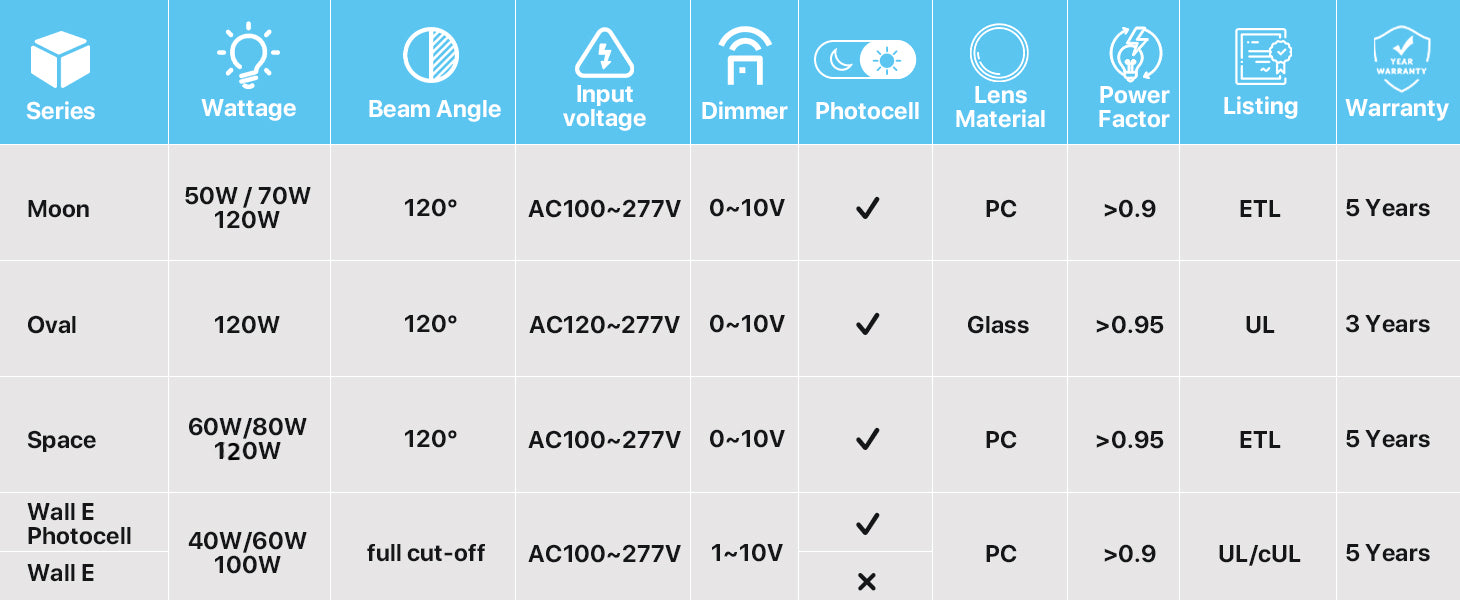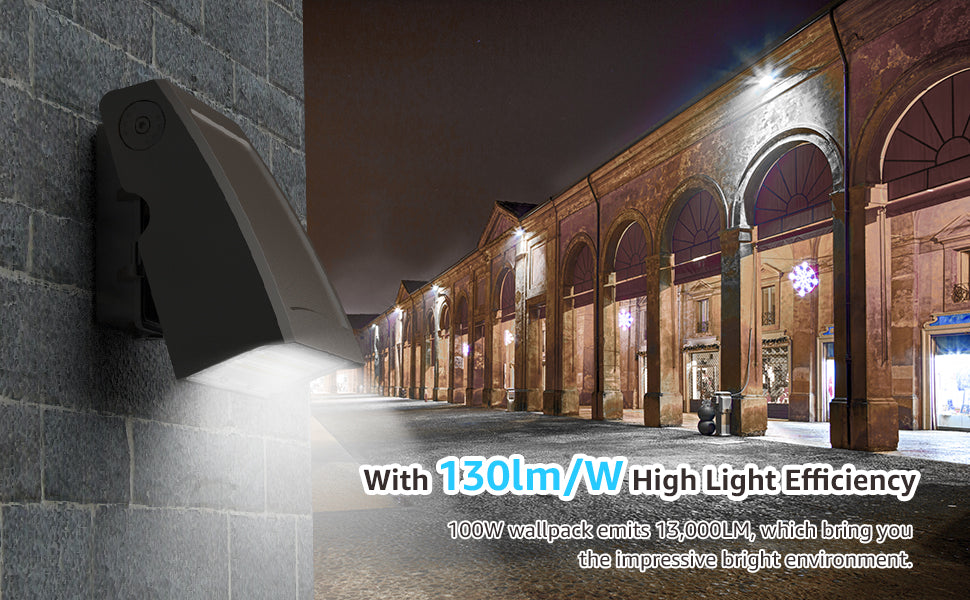 We are willing to help electricians or DIYers with lighting solutions. Just provide us with the length, width, and height of the facility and your requirements for illumination, we will provide the lighting layout to you for free.
 Lighting Projects Share
WARRANTY:
Subject to the terms and conditions specified in this Limited Warranty, Hyperlite Lighting, is a business of High Bay Company, warrants that lights purchased directly from Hyperlite will be free from defects in material and workmanship until the earlier of five years from the date of manufacture, and 50,000 hours of operation.
REMEDY:
Please note that products with different warranty periods provide different warranty services and warranty time.
1.The products can be returned within 30 days from the date of receipt, but please also ensure the integrity of the products and the return will not affect their secondary sales. The used or installed products can't be returned due to non-quality problems (dislike or no longer need). If there is any objection, please contact the seller;
2. If the malfunction or damage of the products is caused by transportation, the buyer needs to contact us and provide evidence (video & pictures) within 15 days from the date of receiving. Providing the buyer fails to do so or no longer replies to us within 15 days after contact, the buyer will be responsible for any loss.
3.If there are any quality problems over 30 days from the date of receipt, please contact HYPERLITE for a warranty with photos or videos showing product problems and HYPERLITE will help you solve this problem. Buyers can choose to obtain new lights, but the corresponding costs need to be borne by the buyer. Please refer to the following for the cost of obtaining new lights.
TERMS AND CONDITIONS:  

This Limited Warranty is VOID in these situations:
If purchaser or the user fails to comply with recommendations of Hyperlite;
If any components are replaced with component of other manufacturers; If the product is operated outside the specified electrical values or is subject to abnormal use or stress, including under/over voltage conditions, excessive switching cycles, and operation in environmental conditions (e.g., ambient temperature) outside normal specified operating range. 
DISCLAIMER
Please pay attention to the working temperature of light fixture. If the temperature that exceeds the usage limit of light fixture due to natural or  man-made  reasons causes the damge of light fixture, the warranty policy won't cover the lost.
HOW TO MAKE A WARRANTY CLAIM:
Hyperlite Company issues a Return Material Authorization (RMA) for all requests for warranty review.  To make a warranty claim, retain the failed Products and notify your Hyperlite sales or customer service representative in writing within thirty (30) days of the failure.  After contacting Hyperlite and receiving an RMA number, Purchaser shall promptly return the Product after receiving instructions regarding if, when, and where to ship the Product. The Product must be returned within 10 days of receiving RMA number, and the shipping box must be clearly marked with RMA number.  Failure to follow this procedure shall void this Limited Warranty. Hyperlite reserves the right to examine all failed Product to determine the cause of failure and patterns of usage and shall be the sole judge as to whether any Product is defective and covered under this Limited Warranty.
RETURN:
1. Contact customer support via email: service@hi-hyperlite.com
2. Ship items back to the address provided by our support team.

Note:
All returns must happen within 30 days of the receipt of that product or Hi-hyperlite.com has the right to refuse the return.
Guidelines for items conditional return:
∮ Item must be in original packaging
∮ Item must not have been installed or used
∮ Packaging material (i.e. wrapping, clam shells) must not have been destroyed or broken
∮ 
Please note that we randomly select logistics providers and are unable to accommodate requests for specific ones. Any delays caused by the shipping company are out of our responsibility and we can not compensate for any resulting expenses. We will do our best to assist you in resolving any issues that arise.