Bright LED Parking Lot Lighting & Energy Saving
This led parking lot light with photocell uses high-efficiency chips to provide 135lm/w of bright led pole light to make your parking lot, driveway, sport court, backyard and other places as bright as daylight, saving hundreds of dollars every year. Type3 distribution provides wider illumination coverage. Equipped with black shorting cap for daily use, and use a blue photocell to achieve automatic lighting from dusk to dawn.

Reliable 5-year Warranty & Professional Service 
Hyperlite promises that all Ares series led parking lot lights are returned free of charge within 30 days and provides 5 years reliable warranty. These Led parking lot light with photocell require low maintenance. Hyperlite insists on putting products and customers first! If you have any questions about lamp selection, lighting layout, after-sales, etc. For example, DIALux lighting layout service, just click "contact us" to send a message to us, we will make the lighting layout for you according to your requirements.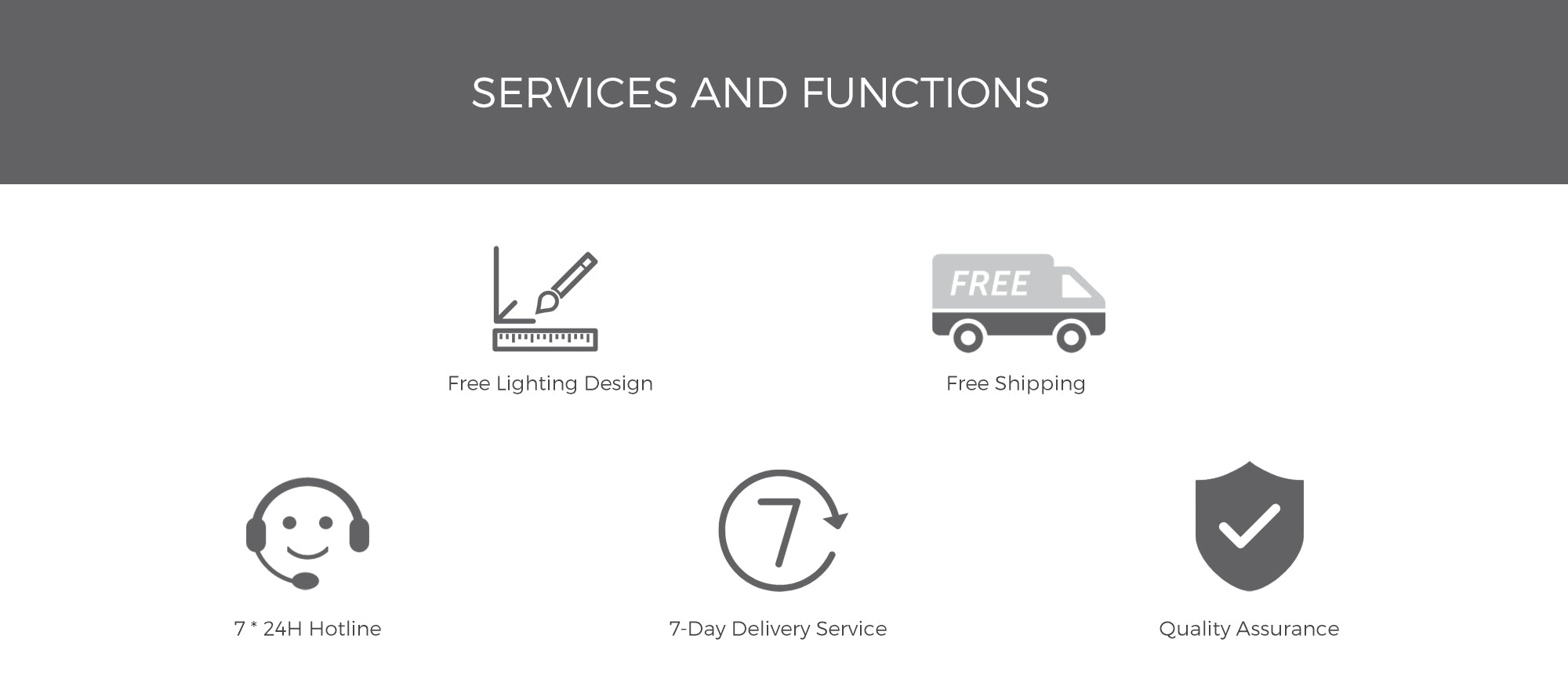 Can you tell me approximately when you will have the 200 watt sfm available I need four Thanks

We will have new parking lot light wich is pretty same with Ares Series.
We will receive new stock next month and you can visit out website to know more about our products.
https://hi-hyperlite.com/collections/outdoor-lighting

Thank you for your preference.

The light I purchased 150w led only had one setting for the photocell with two screw holes taped in it. the other two location for screws was not taped.

Sorry for this inconvenience. Please send us a picture or video and a short description to assist you and provide you technical support to our emial service01@hi-hyperlite.com.

Looking to see if there is any volume discounts available . I will need about 600 area lights. Mix of 100, 150 and 200w and baout 400 highbays mix of 165 watt and 225 watt plus wallpacks. thanks, tom

Of course. Thank you for your preference. We kindly recommend you to please send your details and information (specific product and number of units) to our email service01@hi-hyperlite.com and we will be glad to provide you the the discount possible. 

 

Hi, can you get me the IES file for :Led Parking Lot Light - Ares Series (SFM) 150W / 5000K / UL & DLC

Yes, we already sent the files a few days ago, please check your email inbox (also junk inbox, etc. just in case). If for some reason you did not get the files, please send your request to service01@hi-hyperlite.com.

I was ready to buy 3 lights but don't understand difference between lights I think it's the mount but not sure and also not sure what I do need to mount

The fixture is the same. The only difference is the mounting bracket. We have three different options for you to select depending on your needs. The Slip Fitter Mount (SFM) = This fixture can be configured to provide 0 to 60° both upward and downward aiming at 15° increments and is usually used for 2.5" round poles. The Adjustable pole mount (APM) =  Similar to the SFM unit, this mounting unit is specially designed to fit the square poles and some other round poles too. This is the best option for some customers who prefer the power wires to be protected even if installed on a wall, besides the trunnion mount. And the Trunnion Mount (TM) = for a customer who wants more freedom at the moment of installation and specially designed to mount the unit on an exterior wall with the option to adjust the angle in 2 different directions besides the other two mounting units. We hope this information is useful to you.

Do you have the parking lights available in 120 v?

Yes, Actually all of our products uses standard 100-277V AC surge protection.💡 Input voltages include 100-277, without the use of a step-down transformer. 👍

HOW DO I BUY ONLINE A : CES-LS-ARES-150W-40-SB-T3-R8-UPM-S4-BL

Unfortunately we do not have UPM brackets in stock at the moment, we apologize for the inconvenience.

I see you have 3 different versions of the ares series light: TM - SFM, APM. I do not see any mention of what these distinctions mean or what makes each light different from the other.

Can you provide bracket for dual mounted light.

Hello Michael. We thank you for your preference. We are sorry, but we don't have dual mount brackets for our Ares series in our stock for the moment.

Do you sell the mounting poles ?

Hello Dale. Sorry for the inconvenience, we don't sell the mounting poles for our Ares series.

can you provide me with a copy of the DLC and UL listing? I need this for a utility rebate.

Model name(s): CES-LS-ARES-300WXY-T2 Remark: X stands for different CCT as below:30=3000K,40=4000K,50=5000K,57=5700K. Y indicates Driver types as below: SA-Sosen Driver, non-dimmable or SB-Sosen Driver,dimmable. Representative (Tested) Model: CES-LS-ARES-300W30SA-T2

what thread is the m8 mounting bolts on the 200 watt pole? Thanks

Hello Mike. Thank you for your preference.   We kindly request you to please describe your question with more details so we can assist and provide you more information. 

Thank you for contacting us.

How e amps will it take per unit

The algorithm is P=U*I, Power wattage = Voltage * Amps. If you wire the parking lot lights in 110v power supply, the amps of 100watt is 0.91A, the 150watt is 1.36A, the 200watt is 1.82A, the 300watt is 2.72A.