LED Linear High Bay Light - Ray Series - 4Pack
All Free Shipping. No Extra Taxes.
☎

 Brightness & No Shadows

 -

 Hyperlite LED high bay lights is verified to be a good choice to upgrade MH/HPS lights, which illuminates your work environment with high efficiency lighting up to 135lm/w. High-grade 2835 LED chips make your working environment brighter than daytime.

☎

 UL certified 

- Possessing UL certification, Hyperlite Ray series Linear high bay light is demonstrated to be safe and durable.

The industrial-leading galvanized steel and heat dissipation holes endow the light fixtures with excellent heat dissipation capacity and l

ong service life span up to 100, 000 hours.
☎ 3-5 Minutes Quick Installation 

- 

Hyperlite LED linear lights comes with V-shape hook and hanging chain, making installation much easier. Attach the V hook to the fixture, fix the chain and complete wiring. The effortless 3-minute

 installation will save you time and energy to work on other projects!
☎ Newest Design-

 Simple and compact metal housing design of Hyperlite Linear high bay lights can provide you excellent visual enjoyment. Not to mention the anti-glare lens, which can greatly improve the efficiency of the working environment by the comfortable and bright illumination.

☎

 Trustworthy

 Warranty -

 HYPERLITE offers customers an unbelievable 5-Year Warranty, which free customers from quality concerns. But if a special case arises

, we promise to return the products within 30 days free of charge. HYPERLITE will be responsible for all quality issues!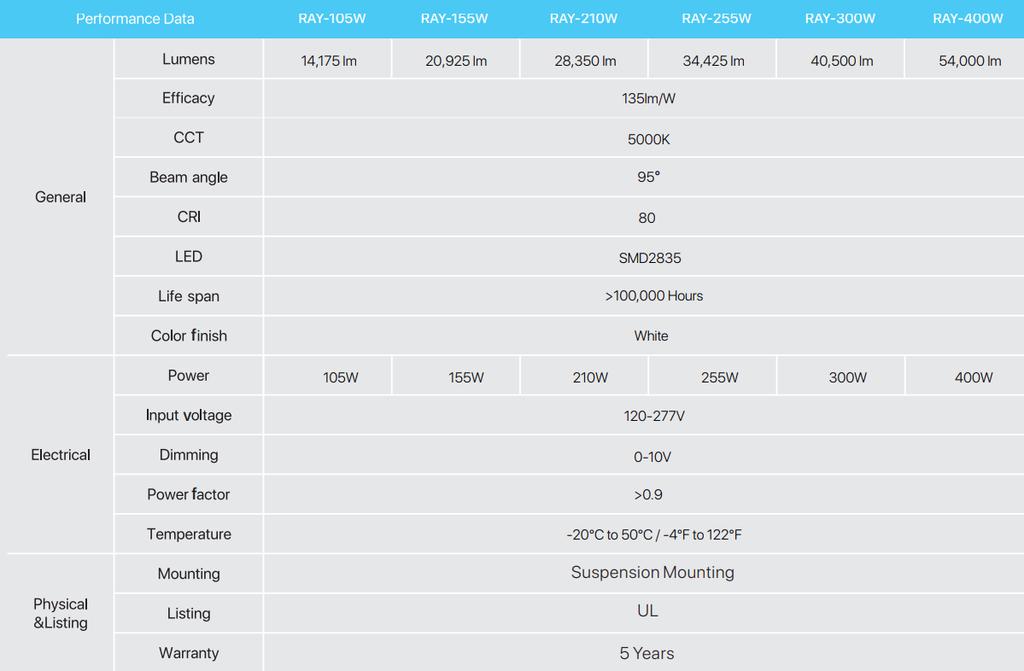 Why Hyperlite LED linear high bay lights is your best choice?
Involving LED lights, the exceedingly low energy consumption is the unavoidable issue. Compared with MH/HPS lights, LED linear high bay lights can make the electric bill send to you more satisfactory, and saving up to 80% electrical energy cost every year.
With the rectangle lamp bead distribution, the lighting of this fixture won't be wasted and will illuminate where you need effectively. Also, adopting the white color galvanized metal housing, Hyperlite Linear high bay is very compact and simple and can be widely apply to shop, grocery, garage, barn, basement and so on, adapting to your wide variety of application scenarios.
Besides, the cusomized anti-glare lens fabulously improve the softness of the light, bringing more comfort to your eyes when you are working or enjoy your life.
We are willing to help electricians or DIYers with lighting solutions. Just provide us with the length, width, and height of the facility and your requirements for illumination, we will provide the lighting layout to you for free.
 Lighting Projects Share
WARRANTY:
Subject to the terms and conditions specified in this Limited Warranty, Hyperlite Lighting, is a business of High Bay Company, warrants that lights purchased directly from Hyperlite will be free from defects in material and workmanship until the earlier of five years from the date of manufacture, and 50,000 hours of operation.
REMEDY:
1. The products can be returned within 30 days from the date of receipt, but please also ensure the integrity of the products and the return will not affect their secondary sales. The used or installed products can't be returned due to non-quality problems (dislike or no longer need). If there is any objection, please contact the seller;
2. If there are any quality problems in 30 days to 1 year from the date of receipt of the product, please contact HYPERLITE with photos or videos of showing product problems, and HYPERLITE will cover all warranty costs (including replacement, maintenance and shipping cost);
3. If there are any quality problems over one year from the date of receipt, please contact HYPERLITE for warranty with photos or videos of showing product problems and HYPERLITE will provide maintenance services. The seller shall bear the relevant expenses, and the specific expenses shall be subject to the seller's instructions.
4. If the malfunction or damage of the products is caused by transportation, the buyer needs to contact us and provide evidence (video & pictures) within 15 days from the date of receiving. Providing the buyer fails to do so or no longer replies us in 15 days after contact, the buyer will be responsible for any loss.
TERMS AND CONDITIONS:  

This Limited Warranty is VOID in these situations:
If purchaser or the user fails to comply with recommendations of Hyperlite;
If any components are replaced with component of other manufacturers; If the product is operated outside the specified electrical values or is subject to abnormal use or stress, including under/over voltage conditions, excessive switching cycles, and operation in environmental conditions (e.g., ambient temperature) outside normal specified operating range. 
DISCLAIMER
Please pay attention to the working temperature of light fixture. If the temperature that exceeds the usage limit of light fixture due to natural or  man-made  reasons causes the damge of light fixture, the warranty policy won't cover the lost.
HOW TO MAKE A WARRANTY CLAIM:
Hyperlite Company issues a Return Material Authorization (RMA) for all requests for warranty review.  To make a warranty claim, retain the failed Products and notify your Hyperlite sales or customer service representative in writing within thirty (30) days of the failure.  After contacting Hyperlite and receiving an RMA number, Purchaser shall promptly return the Product after receiving instructions regarding if, when, and where to ship the Product. The Product must be returned within 10 days of receiving RMA number, and the shipping box must be clearly marked with RMA number.  Failure to follow this procedure shall void this Limited Warranty. Hyperlite reserves the right to examine all failed Product to determine the cause of failure and patterns of usage and shall be the sole judge as to whether any Product is defective and covered under this Limited Warranty.
RETURN:
1. Contact customer support via email: service@hi-hyperlite.com
2. Ship items back to the address provided by our support team.

Note:
All returns must happen within 30 days of the receipt of that product or Hi-hyperlite.com has the right to refuse the return.
Guidelines for items conditional return:
∮ Item must be in original packaging
∮ Item must not have been installed or used
∮ Packaging material (i.e. wrapping, clam shells) must not have been destroyed or broken