Led Linear High Bay Light - Will Series
$85.99
Regular price
$99.99
All Free Shipping
☎ 

Brightness & Anti-glare - Hyperlite LED linear high bay light provides you with high efficiency lighting up to 130lm/w, saving you hundreds of dollars every year. Aluminum strips are added in the middle to reduce light diffusion, prevent strong light and glare.

☎ 

Solid Structure & Good Heat Dissipation - Compared with the traditional iron housing, HYPERLITE linear light is made of aviation aluminum, creating a compact and thick solid housing. The fin design is adopted to maximize the heat dissipation surface, accelerate the air circulation, improve the heat dissipation performance, slow down the light attenuation, protect the light chips, and ensure the long-term use of lamps.

☎ 

Three-step Easy Installation - This series of linear high bay lights is equipped with V-shaped hook and strong chain. Fixing the chain, and making the V-shaped hook fixed to the lamp body, then connect the chain with the hook. Just three steps! The joint between the V-shaped hook and the lamp is tightly and firmly manufactured to avoid the risk of breakage and falling of the joint due to aging. With gradient, you can check whether the lamp installation is balanced. Embedded need to purchase separately.

☎ 

Optional Functions - Hyperlite linear light provides 1-10V dimming function to meet various lighting requirements; Optional emergency power compatible accessories ensure personal and equipment safety in case of emergency; Motion sensor compatible accessories provide inductive switching function for lamps, saving hundreds of dollars per year. Please note that these three compatible accessories need to be purchased separately. If you have any questions, please feel free to contact us for support.

☎ 

Trustworthy Warranty - Hyperlite Linear high bay lights are UL Certified to eliminate leakage and possible fire hazards. With the reliable long-term 5-year warranty, HYPERLITE promises to return the products within 30 days free of charge. HYPERLITE will be responsible for all quality issues. Please feel free to contact us and get problems solved!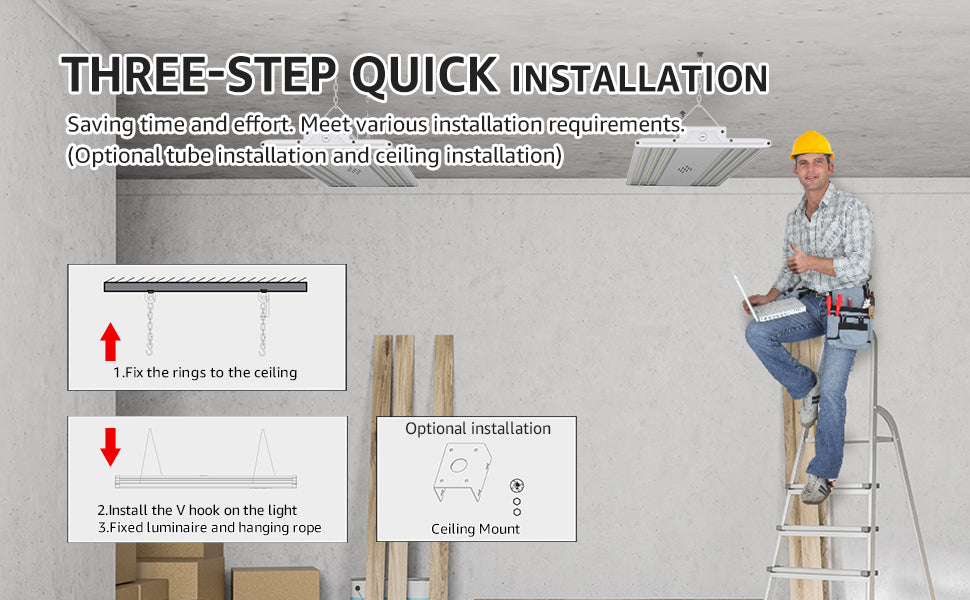 Share from Customers